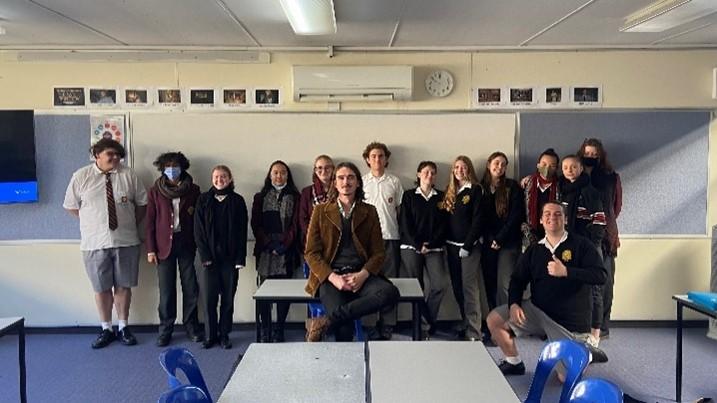 by Ariana Balmores
On Friday the 6th of May, the Year 12 Literature class was joined by award-winning author and playwright, Gabriel Bergmoser.
Growing up in Victoria, Bergmoser believed that it is "the most important thing is to follow your passion" and so he pursued Screenwriting at the Victoria College of the Arts.  
An enthusiastic and compelling storyteller, the author of the novel The Hunted shared insight on what life was like as a published author. Bergmoser recounted entertaining anecdotes that simultaneously generated laughs and shared enlightening tips for Year 12s aiming to pursue creative writing:
Tip 1: Write your first draft as though you're in love with the story (just write!). Write the second draft as though you're in charge (this is when you edit and adapt).
Tip 2: Participate in theatre or play writing – you will quickly learn from audience reactions and gain firsthand feedback about your work.
Tip 3: Just start writing! In the words of Bergmoser, "when we do something once, it makes it easier to finish something".
Overall, the Year 12 Literature class gained useful knowledge and greatly enjoyed Bergmoser's presentation, which emphasised that "if it is your passion … do it" and inspired those of us who aspire to be published writers.