Catriona Christie
A decade ago I dropped my eldest at the front of Kew High School. We had had an emotional summer culminating in a family funeral the day before he started year 7 so we were both feeling exhausted, overwhelmed and disorganised. I particularly felt at a loss with the new systems and routine. Someone suggested that I go to a QNetwork meeting that occurred within the first couple of weeks of the term. Thank goodness I made the effort. 
I was warmly greeted by a small band of enthusiastic parents, one of whom was Paula. These strangers allayed my anxieties, showed me how to navigate compass and extended a hand of friendship that I was so grateful for. No question was too silly and I had plenty of questions. I felt welcomed and knew that there was a place for me in the school community. 
Through QNetwork I have benefited from others experiences and would like to pass on a few pearls of wisdom that have held me in good stead for the last decade.
Firstly, education is a group effort , especially public education. We need to support our kids education at home and support our teachers. A quick email to your child's teachers if things are tough in any areas of their lives keeps them in the loop. 
Go to the parent teacher interviews all the way through if you can. This is a great opportunity to meet the teachers and put a face and voice to a name. I have had such lovely connections with our great teachers and some have taught all three of my kids! 
If you can offer to help at a school event, even once a year, then I highly recommend it. 
We are fortunate to have a culture of parent involvement. Most secondary schools are not so welcoming. It is wonderful to see the interactions between the kids and between the kids and teachers and the small amount that we do is always gratefully received. 
I have made some wonderful friendships through QNetwork which will continue into the future and I have a whole store of great memories. This is my Valedictory present!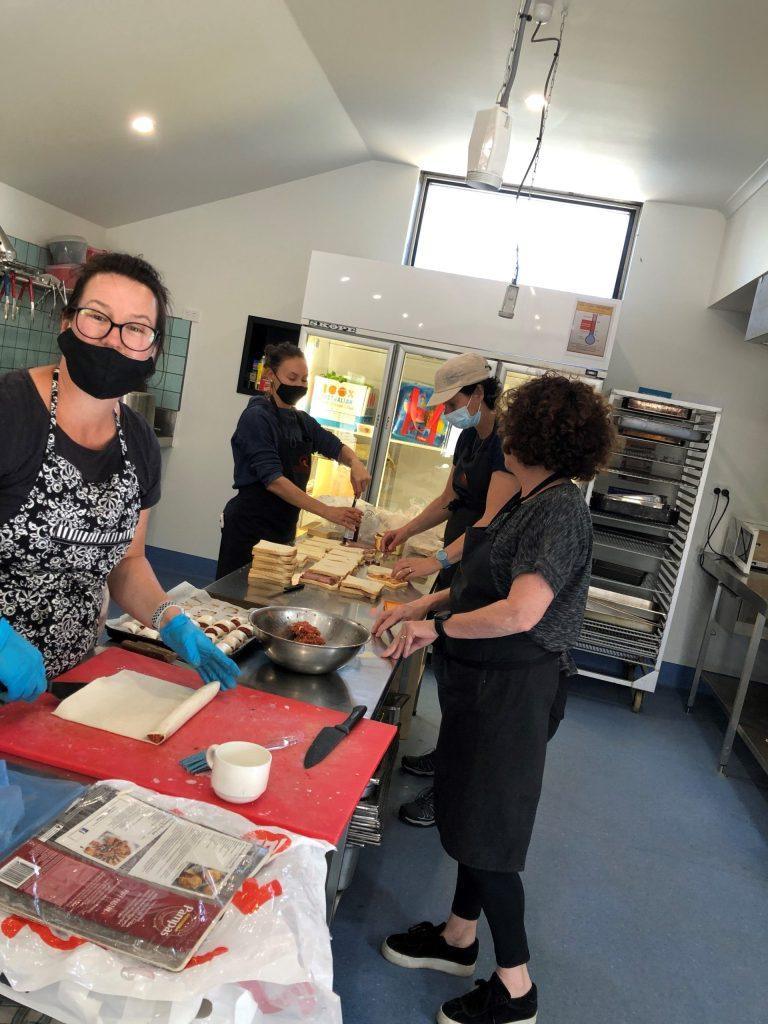 Speaking of Valedictory, after another year seriously affected by Covid we were, at the eleventh hour, able to help send off our graduating year of students with a hybrid style  Formal/Presentation Night/ Graduation. Although the parents couldn't attend, a small band of QNetworkers were able to prepare food and drinks for the year 12's and their teachers. The night was a wonderful success and the kids particularly loved this special night after two of the toughest years of their young lives. 
We also squeezed in two opportunities to run a small canteen on the recent presentation nights. 
QNetwork continued this term to have zoom meetings, with the number of parents attending growing at each meeting. Thank you to all the executive for the work they do but a special thanks must go to Agi ( secretary ) for the cheerful way she keeps us all organised and in touch. 
Our final function was a Christmas meal together. It was wonderful to sit around a table and share good conversation, good food and good wine. It was the last official function for Paula, Clare and myself and we were sent off with beautiful words from Ken ( President) and completely unexpected and unnecessary gifts that we all were thrilled with. 
Finally, an enormous thank you to Josie, Pamela and Jane who so enthusiastically support us, and who see the value for the whole school community in involving the parents as much as possible. We thank you for your commitment to our young people, the teachers and the parent body. 
On behalf of Clare, Paula and myself, we wish you all a safe and happy holiday season and we look forward to hearing of QNetwork moving forward to a bigger and better future.