Ag Luczak (she/her)i, QNetwork Secretary
Hello carers, parents and friends at Kew High School,
The start of Term 2 may feel like a slightly different planet…imagine….a wine and cheese night, held inside, without a mask in sight. But it happened! See the photo as evidence.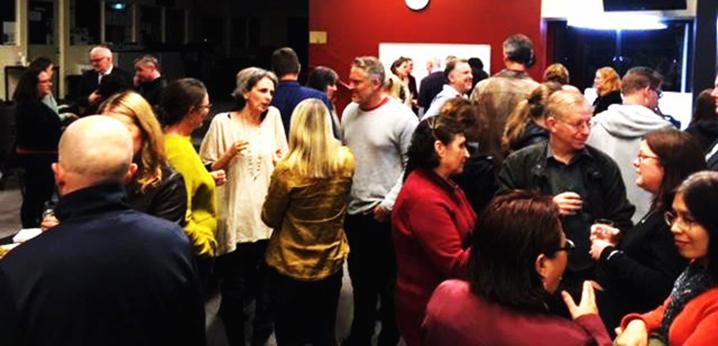 The QNetwork wine and cheese night was a great success – members of our wonderful Kew High School community from all year levels in attendance, great (short and sharp) speeches by VP Darryl Bennett, QNetwork President Ken Brown and School Council President Paula Davey, The wine flowed, the laughs echoed and the lights had to be turned off to encourage party goers to leave the building – surely a sign of a great night.
If you missed out on this event, don't worry. We are hopeful that the COVID gods shine on us again for our Q NETWORK TRIVIA AND COMEDY NIGHT, SAT 28 AUG – starring Dave O'Neill (yes…some parents are really well connected!). Please save the date.
The QNetwork doesn't just party though. This term, we also got behind the Year 12 Sausage Sizzle and Athletics Day Canteen. With over 320 snags and 20 vegan sausages and 0 leftovers at the sausage sizzle, our hypothesis that there is never enough sausages was confirmed (as was the hypothesis that the vegetarian movement still has a way to go!).
"It was great being on campus and helping out. The campus was buzzing and the kids were great. I loved it." Catriona, QNetwork member.
Finally, we would love you to join us. We are always looking for new members to thrash out issues, big and small, to make the Kew High School experience even better for our darling teens (even if the gratitude may only come in a few years).
If you are interested, please email qnetworkpfa@gmail.com