by Philip Naughton and Elise Dunstan
Term 2 began with a refreshed garden area north of the VCE Centre thanks to the generous support of Compass Education. Karen and Paul de la Motte along with ten employees of Compass joined KHS students and staff on Easter Tuesday to rejuvenate the garden area (weeding, pruning and planting perennials, herbs and natives) and varnishing two new bench seats for under the shade sail. This project arose from students identifying it as an area that could be improved and used as an outdoor place of study and area to have lunch. Mulch was then spread across various areas including this rejuvenated northern pocket of the school throughout the term, and special thanks goes to Yr.7 and 8 students including Daniel, Christos, Raf, Lucas, Arley, Cherry, Mei, Danielle, Stella, Roman for helping with this task.
Lots of pruning and mulching works took place in other areas of the school during term 2 – outside the library kitchen, Musicland garden, along the east wall of the main building. This side of the school is now more visible from Burke Road. The garden bed outside the staff room has been cleaned up ready for replanting in term 3.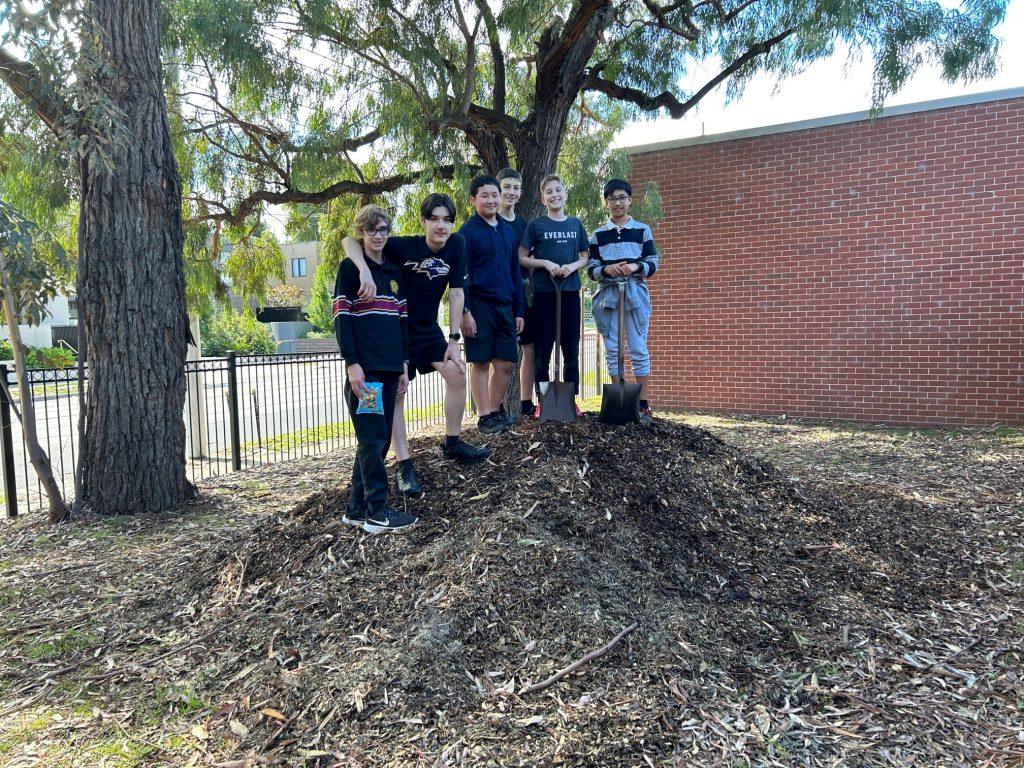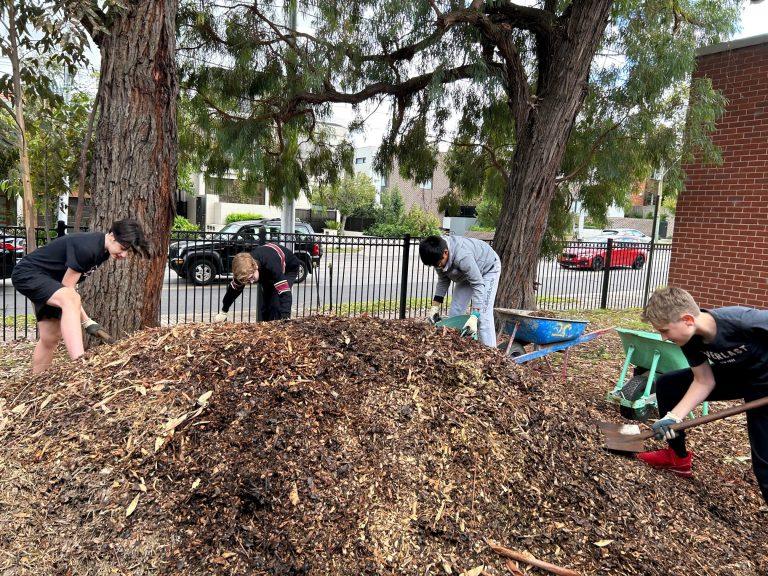 As part of the sustainability program and to encourage more students to spend time caring for their school gardens, students in different year levels have planted six worm towers in various locations to help build up and nourish the soil. These worm towers have been filled with organic matter most notably from Food Tech pracs. We are so pleased this system diverts organic matter going to landfill, and thanks goes to Yr.9 student Eva for being responsible for this new 'waste' system. Special shout to Yr.12 STEM Leader for making signs to identify the in-ground composting 'worm towers' using the school's 3D printer and laser cutter.
Finally, the Landscape Lads Mark IV, Henry, Toby, Jerry, Cato, Christian and Flynn did an excellent job planting out and mulching the car park garden which has given the whole area a much needed facelift!
A recommended reference to watch is Glen Rabenberg: Improving Soil health. This explains how biology and chemistry meet in the soil.
We are looking forward to continuing to rejuvenate the school's gardens in term 3 and having more students take part and initiate projects.