Karen Lynch
Head of English
Our English teachers have been busy providing core and extra-curricular activities; much of which we missed out on last year.
Getting to Know our Year 7s.
Every year, staff are very excited to meet our new Year 7 students. Over the last few years, the English team have got to know their students through the 'Re-inventing Me' project. The project takes the pivotal moment of entering high school as an opportunity to chart other important moments in individual student's lives. Students also respond to questions about their identity through a range of other projects. The outcome was the colourful poster-filled walls that greeted parents and students on the Meet the Teachers Night on Wednesday 10th of February. Students proudly showed off their class work, which also provided interesting talking points between parents, students and teachers.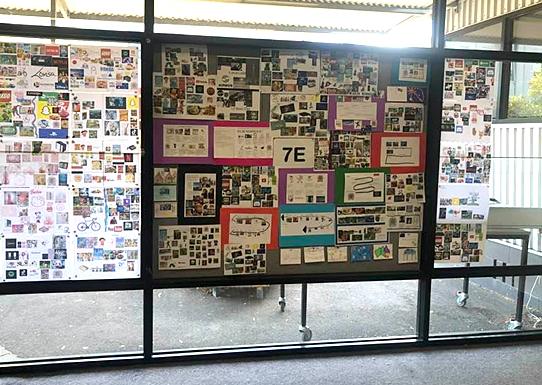 VCE INCURSIONS
The Year 11 students were introduced to Shakespeare's play, Macbeth, on Friday 26th of February. The Complete Works theatre company performed key scenes of the play, whilst also pausing to discuss important aspects of the play: plot, themes, symbols and historical context. The actors were most impressed with the Kew High students' levels of concentration on a Friday afternoon and complemented them for their insightful questions in the Q & A session at the end of the performance.
On Wednesday March 10, the Year 12 students benefited from a presentation from former student, Lindsey Dang, who came to speak to our students about the film, Rear Window, and approaches to the text response. Lindsey is currently studying Law at Monash and has become a prominent VCE English tutor in Melbourne. Her insights will be helpful for students in the lead up to their Text Essay Outcome for Year 12 English.
Calling all aspirational poets.
Australia's oldest junior poetry competition, The Dorothea Mackellar Poetry Awards, are now open. Details of the competition can be found here:  
https://www.dorothea.com.au/How-to-Enter-awards
This year has an OPTIONAL THEME of "Rich and Rare" – a reference to the Australian National Anthem and our unique and diverse landscape.
Students of all age groups can enter. Interested applicants to contact  karen.lynch@kew.vic.edu.au