Principal's message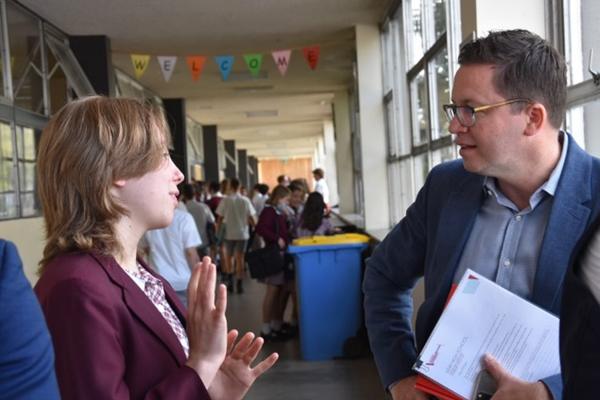 Josie Millard
Principal

After nearly one year, I am extremely well placed to reflect upon my good fortune to be the Principal of Kew High School. This is a school with particularly strong community connections. This is a school with amazing students, who work with their teachers to improve and influence their learning inside the classroom and their environment outside the classroom. This is a school with high expectations of all learners and teachers – in their learning and in the ways in which they live the values of the school. I am indeed fortunate to be a part of this school community, and I thank each and every one of you for your support and your kindness.
Recently I wrote to the school community with the following message.
Kew High School is a proud public school. We take, very seriously, our responsibility to provide the best possible education to our students.
Our guiding principles in framing and delivering that education are our school values:
Accountability
Social Equity
Participation
Integrity
Respect
Excellence
I seek to assure you that Kew High School takes our responsibility to create a learning environment in which all students are respected, where all students are safe and where all students have strong voices. We are a reflective school community, and the current social discourse around gender-based violence and the role of consent education in addressing and preventing this has caused us to reflect on ways in which we already are addressing this – and ways in which we can improve.
The Leadership Team are working together to ensure that what we do now, and what we do in the future, supports all of our students.

A number of steps have already been taken, and further steps will be taken to address these issues. Some of these will be visible to students and parents, and some will not be.

I thank the team who have been working to determine our school's response to this issue. Please look for further guidance from the Wellbeing Team on Newsfeed.

I thank all parents who have already contacted me regarding this important social issue. It is the fact that we are working in such an engaged and committed public school community that makes me feel so confident that our community will always ASPIRE.
Learning and Teaching
Across the school, classes  have undertaken some major  assessments,  School Assessed Tasks  (SACs) and Common Assessment Tasks (CATs) over the last few weeks of the term. The purpose of assessment is to identify the skills and knowledge that the student has gained at that particular point in their continuum of learning. If teachers can accurately identify where the student is at in that point of their learning, they more effectively support students to move to the next stage.
At Kew High School, we pride ourselves on our continuous drive for improvement in all areas of teaching and learning. We know that improvement in student learning outcomes is inherently influenced by the process of enhancing teacher practice. Across the school, teachers are working together to examine the evidence of students learning and to determine which aspects of instructional practice are influencing learning for each student. Throughout 2021, teachers are working in small teams to improve their capacity to  use formative assessment to  improve teaching – and therefore to  improve learning. The goal of formative assessment is to monitor student learning and to gather feedback that is used to adjust teaching.
One of the best ways for teachers to examine their own practice is to observe each other teaching. We are fortunate to have an expert team of Learning Specialists in the school, who have designed an observation protocol which specifically supports teachers to improve their use of formative assessment. Students may come home to you and say that they had another teacher in the class today. When they do so, you will know that this is part of the process of improving learning and teaching at Kew High School.
Sod Turn of the Kew High School STEM Centre
On Monday 1 March, Tim Smith (Member for Kew), Anthony Carbines (Member for Ivanhoe) and Enver Erdogan (Member for Southern Metropolitan) attended to officially 'turn the sod' of the STEM Centre at Kew High School. Together with myself and the School Captains, Laura Cuthbert and Elliot Aitken, the official party signed into the building site, donned our safety gear and 'turned the sod' of our new building. It was a significant day in the life of the school, and I paid tribute to the parents and community members who worked so hard to ensure that our future students will be able to learn in an environment that fosters critical and creative thinking, innovative curriculums and collaborative problem solving.
The building is scheduled for completion at the beginning of next year, so our 2022 students will gain great benefit from the opportunity to learn in such an innovative environment.